Client Name: Joe Ocholla
Plot Location: Rangau, Off Ongata Rongai Town
Inuua Plan: ID 4231
Status: Ongoing, Ground Floor walling done. Preparing for 1st Floor Slab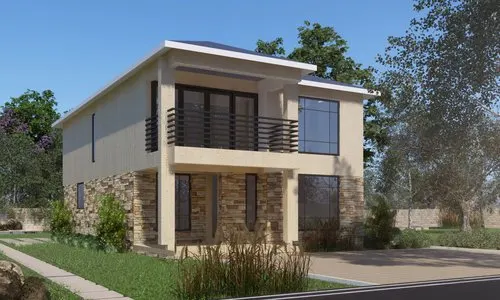 Inuua Maisonnette Plan ID: 4231
Mr Ocholla, visited our offices and bought his residential building plans in October 2019, after a short discussion.
Inuua's Home Construction Architectural plans, come complete with Bills of Materials and all Engineering Drawings as well as access to online tools to manage the site.
As he prepared to start to build his home, he spoke to his supervisor (fundi) who suggested reducing the amount of Y8 re-bar from that shown in the Inuua Bill of Quantity and Materials.
After consultation, he felt the 8000/- saving on foundation by reducing this quantity was not significant in terms of the cost of building his home, and stayed with the Inuua design detail shown below.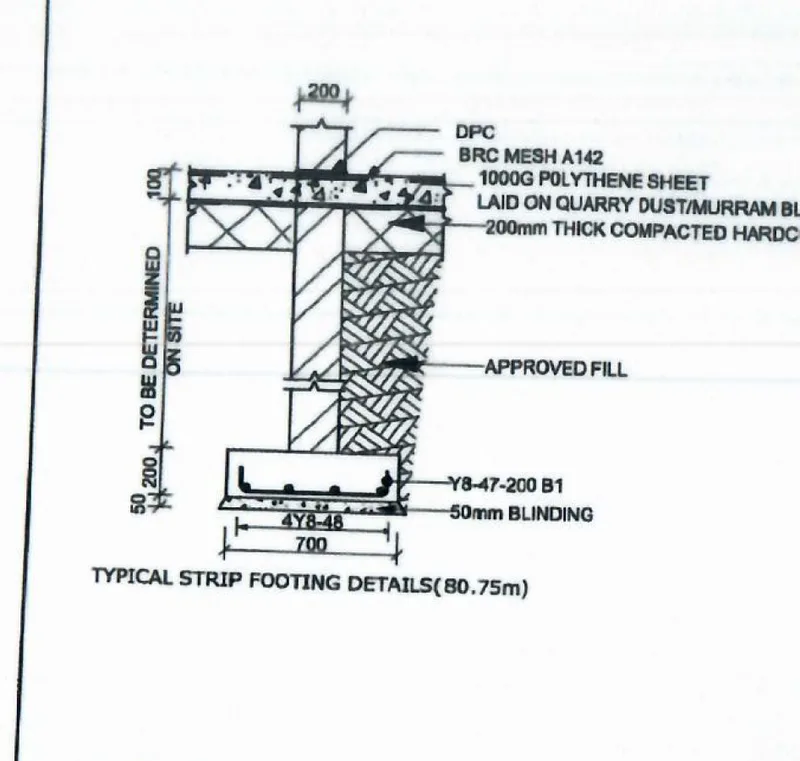 Y8 re-bar as designed on the Inuua Plan
He also considered using 32.5 grade cement vs 42.5 grade cement. 32.5 is slightly cheaper and more suited for plaster work vs 42.5 which is more for structure with greater strength.
The other thought he considered was the use of quarry dust which was more easily available nearby rather than river sand, for mixing with the cement.
Although, there are options for using this, one has to be very careful about the ratios mixed as it can affect the strength of the mix produced.
It is important to explore avenues to control costs when building a home, yet just as important to understand the consequences on quality of cost cutting decisions.
Mr Ocholla broke ground in January 2020, with excavation and foundation as shown in the images below.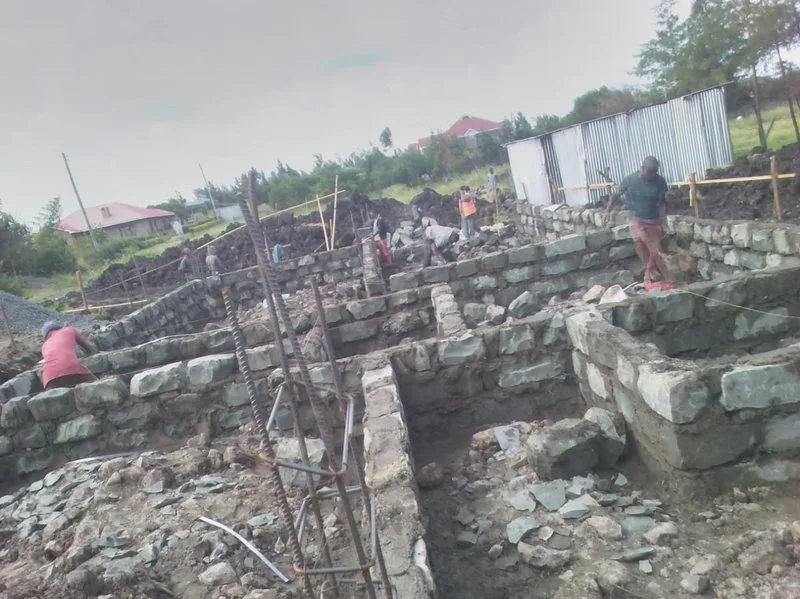 Foundation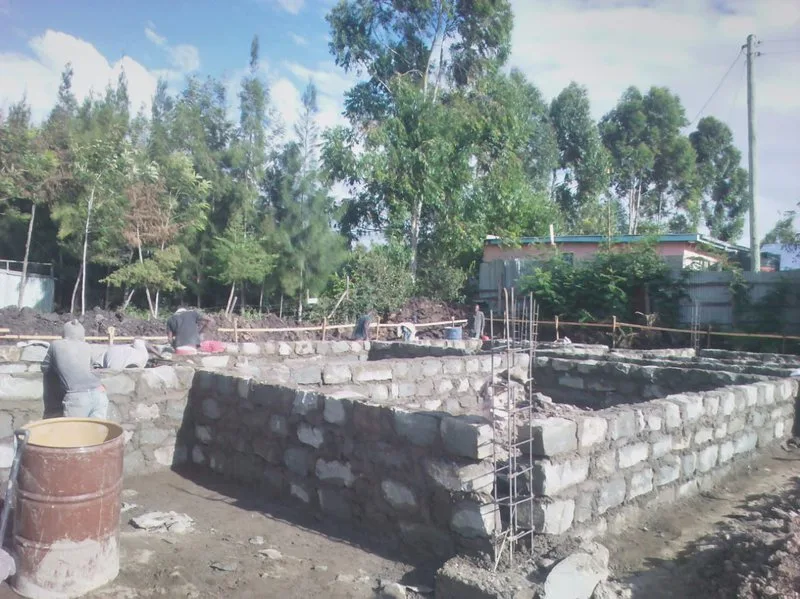 Foundation
There were some extra column bases added, on the fundi's recommendations, but an important crucial column had been omitted, which was corrected later.
At the end of March 2020, Mr Ocholla, having explored options, opted to complete his Ground Floor Slab using Ready Mix from Bamburi Cement.
The option meant his people had to do some preparatory work prior to arrival of the ready mix cement by truck, but the cement quality was high and consistent. In addition, this cement was poured in one morning.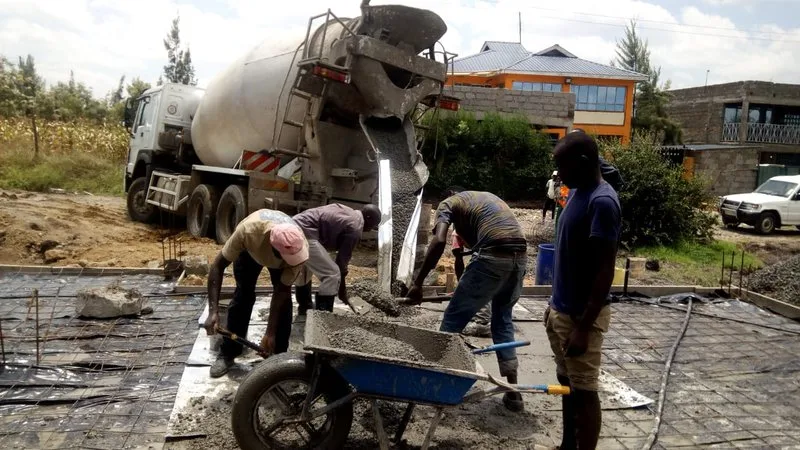 Ground floor slab work in progress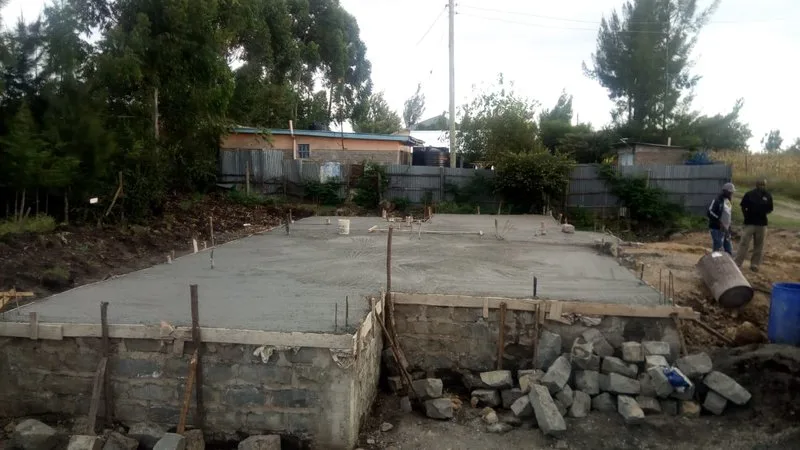 Ground floor slab after
This meant there were no joins and the curing was also consistent resulting in a stronger slab.
Mixing on site by batch, has the possibility of being cheaper, but sometimes material waste and quality inconsistency, as well as time and labour costs need to be factored to determine overall value.
Mixing concrete
As Mr Ocholla prepared to do his Ground Floor walling, he opted for a clever solution, which was suitable for his area, as the stone quarry was nearby.
He got raw stone (not machine cut stone) delivered, and then hired a skilled labourer to 'chonga' (chisel) the stones.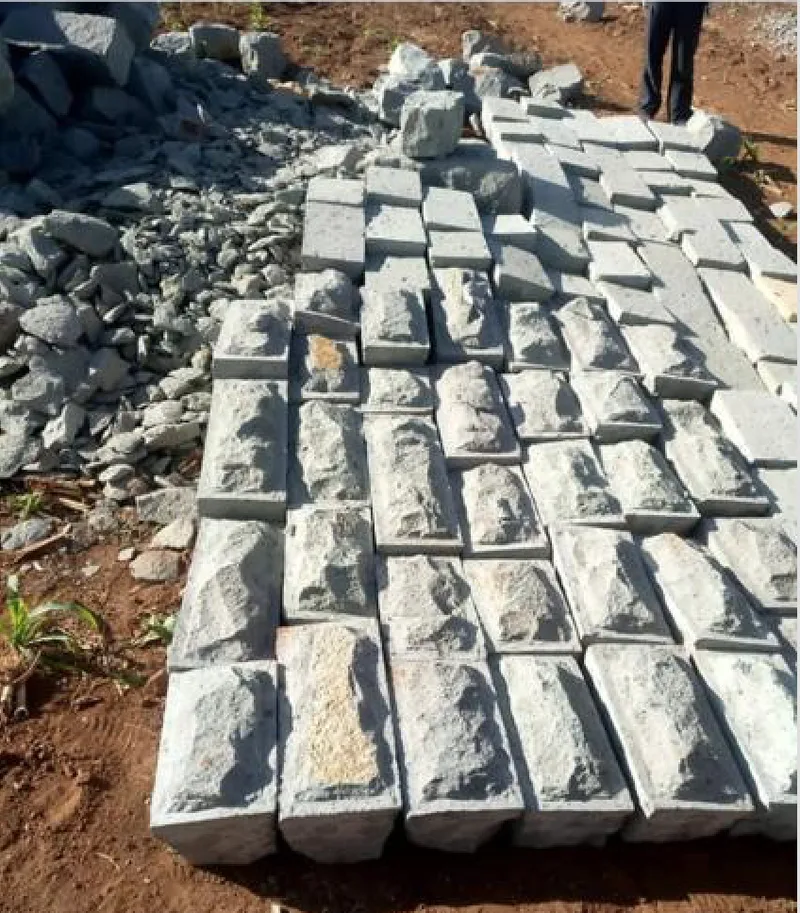 Manually chiselled blocks
This gave a decorative bush cut look for the outside and a smooth surface on the inside, saving him considerably on cladding the exterior and the costs to build his home! 👌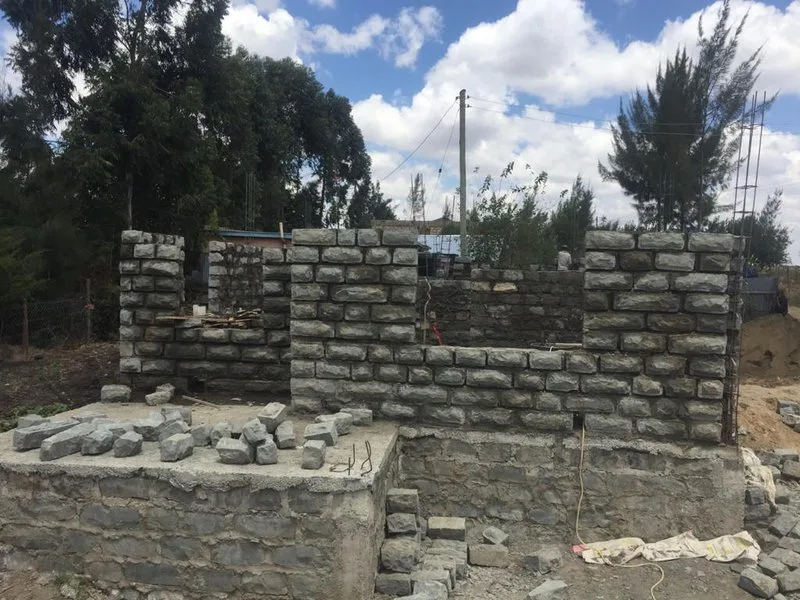 As of 11th September 2020, Mr Ocholla was preparing to cast his first floor slab and staircase.
Update 1 - 29/01/2021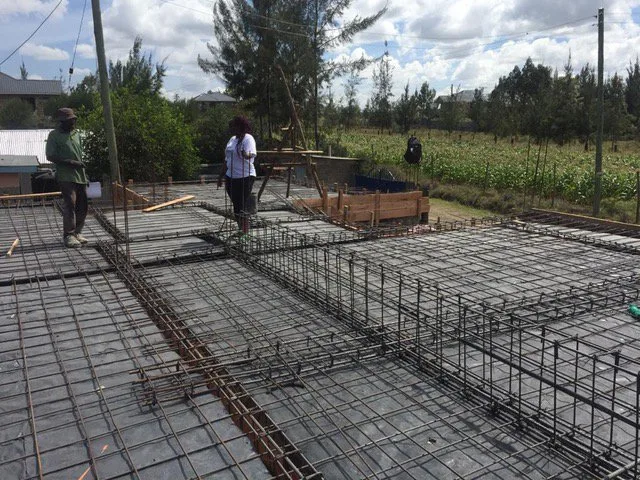 Like many of us, the year 2020 has had its challenges but with focus and discipline Mr Ocholla has
managed to prepare his first floor slab ready for ready mix concrete.
He opted for the latter as it meant:
i) A  more consistent quality of concrete straight from the factory
ii) The pour could be done in a singe day likely to mean better strength.
iii) Less wastage as there is no 'kokoto', sand and cement spread all over the
the site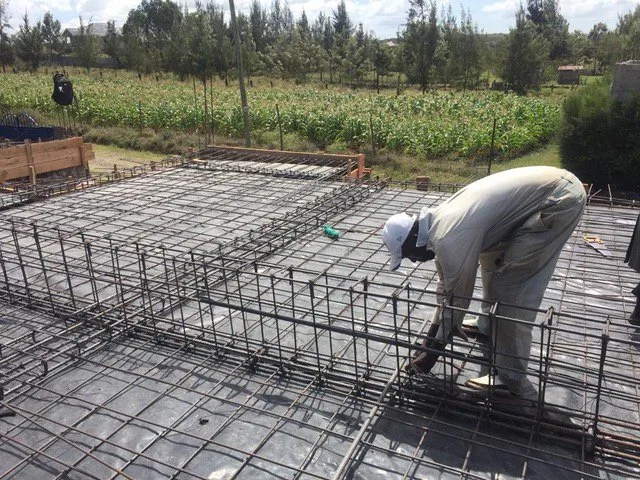 It is important to ensure that the cost  and availability of concrete pump are taken care of by the supplier as
the first floor slab this is essential.
Furthermore a good poker vibrator also helps ensure that as the concrete is poured the air bubbles that
can form and weaken the structure are reduced.
These air bubbles for a honeycomb effect if vibration is not carried out properly.
---
Update 1 - 04/07/2021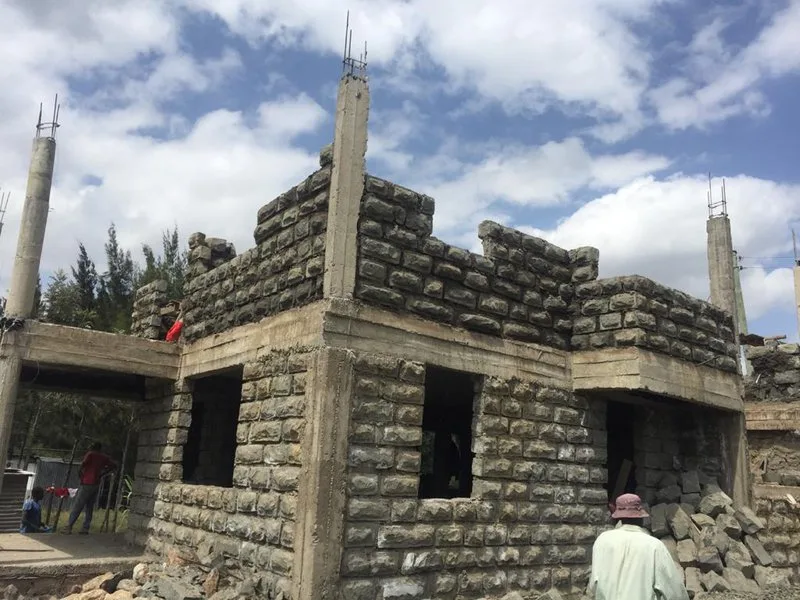 Mr Ocholla has continued diligently towards completion of the structure of his home. He has opted for bush cut stone for the complete elevation.
They will save him costs of cladding which can range from 1500/- per sq meter to 2500/- per sq mtr, 
weighing it up against a little more plaster cost on the internal walls.
Joe Ocholla is a sterling example of how a home builder can incorporate his own ideas to customise his home
on an Inuua plan yet benefiting from all the information that comes with Inuua.
As individual home builder make their personal choices, they have a budget costing which helps them
make better decisions for their benefit.
The Inuua app brings the ability to make better decisions to your smart phone!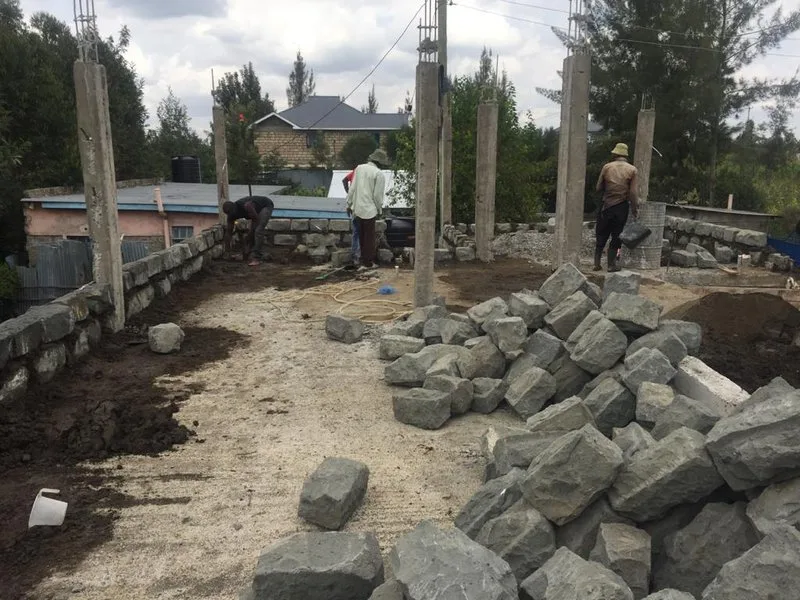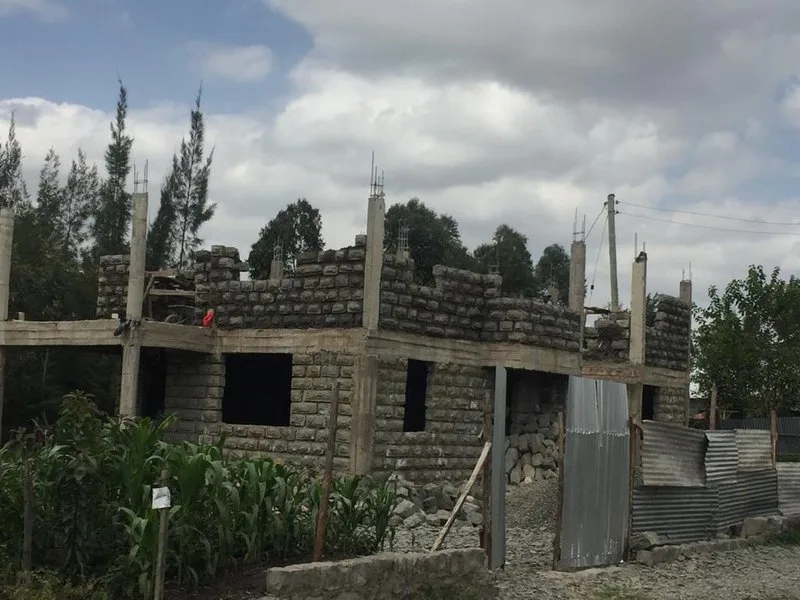 ---
Update 2 - 27/01/2022
Towards the end of 2021, Mr Ocholla has completed his first floor walling and
rapidly moved to build his roof trusses.
Using Light Gauge Steel, the roof trusses are usually prepared and cut to size off site and
brought for rapid assembly onsite.
This option has become a choice for many now as getting good timber can be expensive,
and takes longer to put up.
As roofing can be a significant cost of a home it is well worth looking at options of Timber vs
LGS when doing a conventional roof.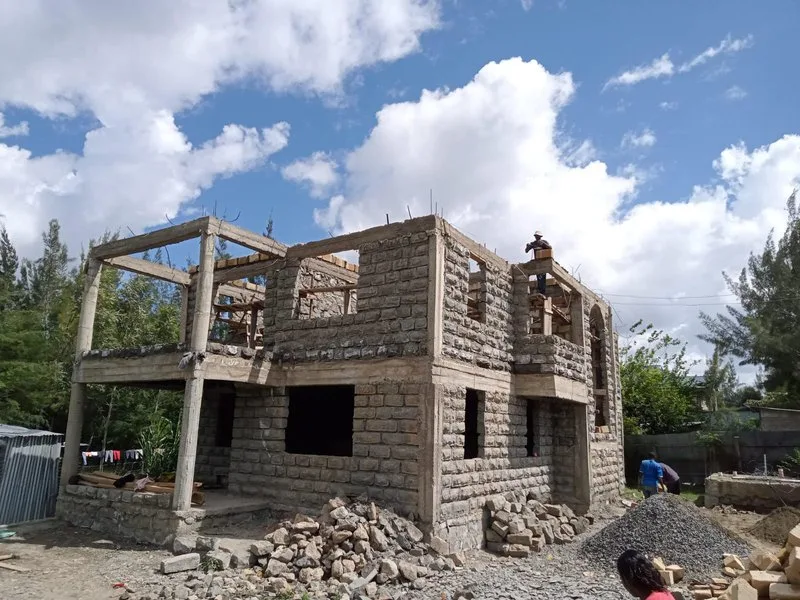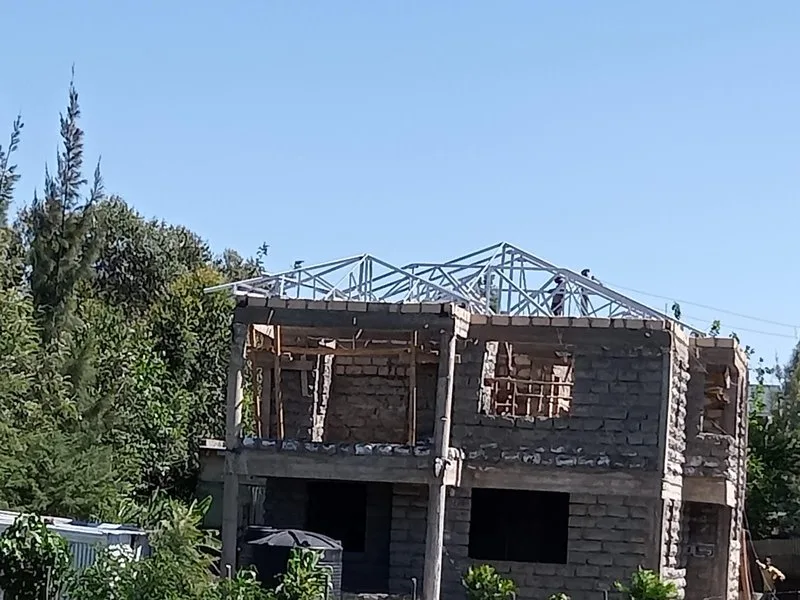 ---
We shall update this post as Mr. Ocholla progresses. If you would like to get these updates plus many more, kindly subscribe to our newsletter at the bottom of this page.
---
Posted Under: