Building your New Home will Need Planning Approval
Why Should I Make an Application to Build A House?
The Physical and Land Use Planning Act requires that any person intending to undertake any form of development – including constructing a house – must first obtain approval from the County Government where the plot is located.
The Inuua Home Construction Building Plan
INUUA has a wide variety of residential building plans (known as type-plans) that meet the design requirements as set out in the Building Code We have. Bungalow, Maisonette, Jenga Pole Pole and Bedsit designs.
The house designs are for Bungalows and Maisonettes complete with associated structural designs and bill of quantities, giving you a good estimate of costs to build a home.
In order to comply with the building construction requirements, INUUA is in continuous engagement with County Governments to get them familiar with the quality of our residential building plans. We hope this helps speed up the process for Inuua's clients.
Over time, we hope our house plans in Kenya only require individual site customisation to secure a construction permit.
The following are common requirements in all construction permit applications:
The residential building plan(s) of the proposed house;
A survey plan from Survey of Kenya (in the absence of an approved survey plan a beacon certificate duly signed by a Licensed Surveyor);
Ownership documents (copy of the title, lease or valid letter of allotment); and up-to-date land rates payment receipts.
To make an approval application for a house, follow these 6 steps:
Choose a house plan from Inuua that suits your family needs and budget. You can follow the purchase process on www.inuua.net and download all the building information, including architectural plans, engineering drawings ​and a design drawing for approval purposes
Engage a Registered Architect or consult a town planner from the respective county.
The Architect or Planner can print and prepare Inuua plans and drawings for submissions. T​he design drawing for approval is part of the building information pack for each plan.
The Architect compiles support documents mentioned​ ​above for submission.
The Architect submits to the County Government for approval
Payment for the Construction Permit

The payment of construction permits varies from one county to the other. As a general guide, the table below gives an indicative cost of submission fees payable to a few counties Inuua is in engagement with.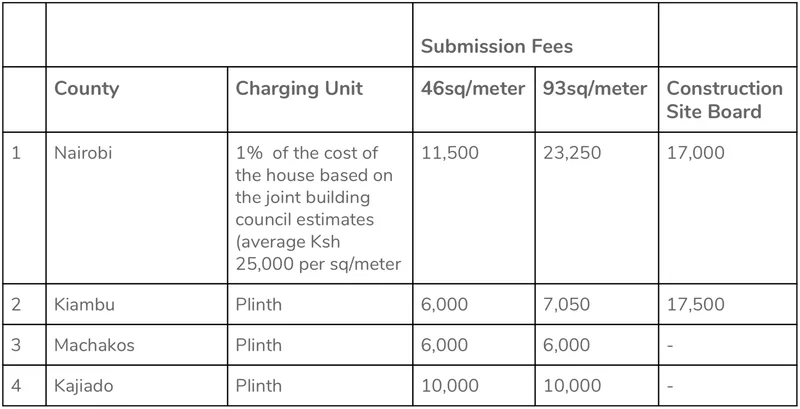 Notice of Approval
Upon submission, you will receive, through your Architect, a notice of issuance of the construction permit.
The notice will tell you if your house design proposal has been approved with conditions that include the approval of structural drawings. Inuua's house plans for Kenya comply with County Regulations.
In general, you cannot alter or vary the house design, unless you seek and obtain approval for amendments.
Inspection of Building During Construction
Building inspectors regularly pass through construction sites to check on progress.
It's important to have a set of stamped approved plans on the site.
Occupation Certificate
This certificate is issued to a completed house that has complied to all approval conditions and has undergone the regular inspections at the required stages. The application has to be accompanied by:
✓ Copy of approved building plans;
✓ Copy of approved structural engineering plans;
✓ Structural Engineer's indemnity form;
✓ Architect's report; and
✓ Plumbers certificate

We are engaging with County Councils to assist in the processes above, and hope that in due course we will be able to reduce meaningfully the friction during approval and construction that does occur from time to time.
---
Posted Under: